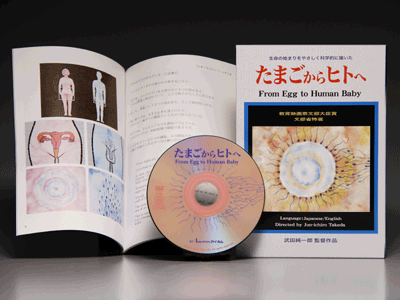 【title】 From Egg to Human Baby
【specification】 158 x 215 mm (DVD and Book with Box Case)
  [DVD:24min./Japanese/English/NTSC]
  [Booklet:40page/Full Color/Japanese/English]
【ISBN Number】 978-4-900960-28-2
【price \3,800(tax excluded)
【date of issue】 January 27, 2011
【publisher】 ICAM CO., LTD.

-Credit Title/Staff
-Scenario "From Egg to Human Baby"
-Production Note
Foreword (excerpted)
Until one birth is promised,
How many stars fly by,
How many times does the moon wax and wane?
Like the mysteries of deep space,
A single, round egg is rolling slowly.
Who makes possible the powerful start of this journey?
Like the sprouting trees and grass,
gently raised by the endlessly falling sunshine and rain.
Surely the hand of an unseen God
Is extended in this miracle.